Diventa Insegnante Yoga Prenatale Certificata Yoga Alliance®
Con Marisa Toriggino da Yoga Garden San Francisco
Gennaio 18/27, 2019 training completo 85 ore, certificazione Yoga Alliance.
Gennaio 18/23, 2019 modulo 1, 48 ore, attestato di partecipazione.
Casa Yoga Milano is hosting Marisa Toriggino from Yoga Garden San Francisco, which is a leading national center for prenatal yoga teacher training, with graduates successfully teaching throughout the U.S., Asia and Europe. Her program is one of few who offers Yoga Alliance registration (the only nationally-recognized standard for prenatal yoga teacher training), giving her graduates an assurance of quality and a unique advantage to become a Yoga Alliance® Registered Prenatal Yoga Teacher (RPYT®).
With Marisa Toriggino's Prenatal Yoga Teacher Training, you will learn to successfully teach yoga to pregnant and postpartum women.
– Learn which yoga postures are appropriate for pregnancy and postpartum care, including any special modifications.
– Understand the physiological, emotional, and social considerations of childbearing and parenting.
– Recognize the common discomforts of pregnancy and the postpartum period, and discover how postures and sequences can support women through this process.
– Receive hands-on training and feedback in practice classroom settings.
– Experience giving support to mothers, assisting mother-infant bonding and fostering community among new mothers and parents.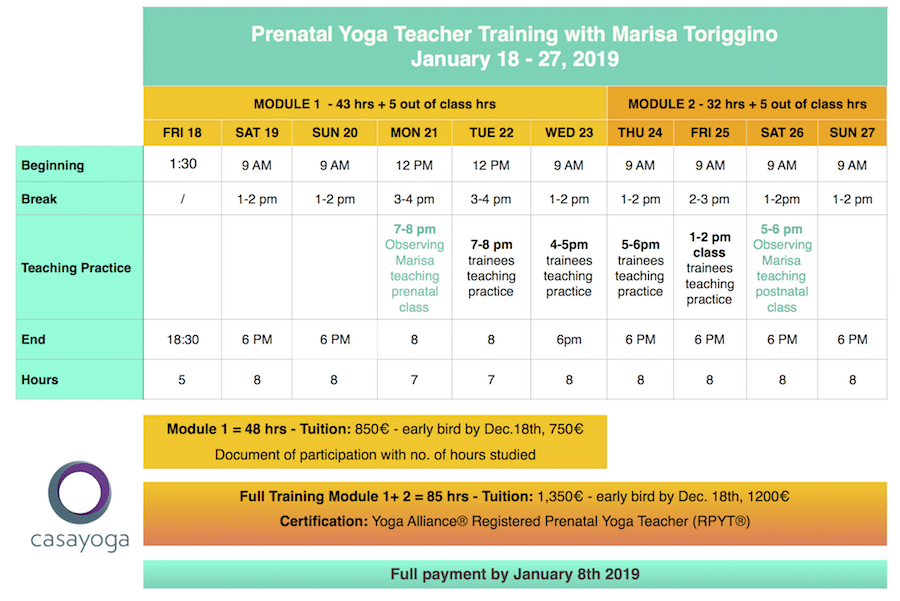 REGISTER NOW: Full training with certification – 85 hr
REGISTER NOW: Module 1 – 48 hr
THIS PRENATAL YOGA TEACHER TRAINING IS FOR:
Certified yoga teachers specializing in prenatal and postpartum yoga or becoming a Yoga Alliance® Registered Prenatal Yoga Teacher (RPYT).

Students currently enrolled in a 200-hour Teacher Training Program seeking an emphasis in prenatal and postpartum care.

Experienced yoga students (with permission from the instructor) interested in becoming prenatal yoga teachers.

Birth Professionals (childbirth educators, doulas, midwives, nurses, OB/

GYNs

, etc) interested in learning how yoga can benefit their clients and how to add yoga to

their care modalities.
PRENATAL YOGA TEACHER TRAINING CURRICULUM:
This course includes the following but is not limited to
Safe and therapeutic asanas (poses) and sequences for each trimester and the postpartum period.

Anatomy and Physiology of pregnancy and the postpartum period.

Yoga philosophy: Yoga Thought Meets Modern Birth

Observation and teaching in prenatal yoga classes.

Yoga's application for common discomforts of pregnancy and pain management during labor.

How to create 

a richly supportive environment for mothers, babies,

and

families.

Teaching Skills to refine the art of communicating the practice and benefits of yoga to others.


LANGUAGE: English. We would offer some translation during the training if needed. The teaching material and reading assignments will be in English.
LIMITED TO 12 PARTICIPANTS
Marisa Toriggino, E-RYT200, RYT500, RPYT
Marisa Toriggino, a leader in prenatal yoga education for over a decade, has designed an innovative curriculum for teachers of prenatal yoga worldwide.  Students from across the globe, from the remote areas of Russia to urban centers in Europe and the Middle East, participate in her training. Marisa's teaching combines powerful techniques from diverse lineages into a sound yoga practice that supports a healthier pregnancy and better birth outcomes for future mothers.  She has studied with  the founders of the various yoga lineages, including BKS Iyengar & Geeta Iyengar (Founders of Iyengar yoga), Sharon Gannon (Founder of Jivamukthi Yoga), Dharma Mitra (Founder Dharma Yoga Center), Yogi Bhajan (Founder of Kundalini yoga), and Swami Kriananda (Founder of Ananda yoga).  Marisa integrates these practices and her experience into her prenatal classes, applying a rigorous physical awareness to her teaching that leads to a deeply inward understanding of the spiritual essence of humanity and motherhood. Marisa wrote a certification program that is among the first to offer Yoga Alliance registration as a Prenatal Yoga School, giving her graduates an assurance of quality and the unique advantage of being a Yoga Alliance Registered Prenatal Yoga Teacher (RPYT). In partnership with Udaya (udaya.com) she filmed 16 videos for Prenatal and Postnatal Yoga which will be released in Summer 2018. Marisa earned a BA from UC Berkeley and is certified by the Rudolf Steiner college in Administration for Spiritually-based Organizations.  As a lecturer, she advocates the promotion of yoga for pregnancy and motherhood, and conscious birth and parenting practices.  She was one of the founders of Yoga Garden of San Francisco and co-owner from 2004-2018. Marisa is a native Californian, residing in the San Francisco Bay Area.